Researching the Paranormal, by Courtney M. Block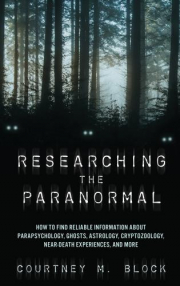 From the publisher's website: The paranormal has long been a hotly contested topic, especially in academia. Most people are entertained by the paranormal or casually read a few books they come across on the topic, perhaps assuming that these topics are nothing more than campfire fodder. Of course, there's nothing wrong with being entertained by the paranormal, but how many people know that there is a long history of academic, scientific, and credible research into topics such as extrasensory perception, hauntings, poltergeists, cryptozoological sightings, near-death experiences, and more?
Further information at the publisher's website: Rowman & Littlefield.
Publication Details: 
Rowman & Littlefield, ISBN: 9781538131442.