The Survival of the Soul and its Evolution after Death, by Pierre-Émile Cornillier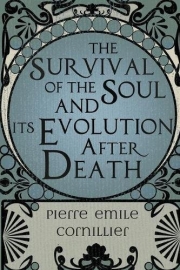 Publication Details: 
White Crow Books, ISBN 978-1-78677-031-8
From the publisher's website: Pierre-Émile Cornillier (1862-1942), was a renowned artist and the son of the merchant Pierre-Émile Cornillier,  the deputy mayor of Nantes, and Marie-Joséphine Leroux. He was also the uncle of the writer, Mireille Havet.  He exhibited for the first time at the Salon of 1885 and sent his works to the Salon of the National Society of Fine Arts until the beginning of the First World War.
One day in 1912, he noticed that Reine, an 18-year-old model he had been employing for several months, had psychic abilities of some kind.  Although a student of agnostic philosopher Herbert Spencer, Cornillier had closely followed the psychical research of the time and had been an observer at some séances. On a November afternoon, when it became too dark to paint, Reine asked Cornillier if they could experiment with table tipping, something he had mentioned to her.
He somewhat reluctantly consented and they sat facing each other at a small table.  They sat for a full hour and nothing happened.  They were about to give up when they heard cracking noises and the table swayed to the right and to the left, then tapped clearly several times. Familiar with this phenomenon, Cornillier noted that the taps were spelling out letters.  After some confusion and repetition of the message, Cornillier understood that he was to hypnotize Reine.  Although he had never hypnotized anyone before, he had observed the process and decided to give it a try.
It was on November 29, 1912 that Cornillier recorded his first real success in what amounted to clairvoyance by Reine. After she was in "hypnotic sleep," he asked her to visit his apartment, on another floor of the building, and she, never having been in the apartment, provided an accurate description of the layout.  Further experimentation involved communication with some apparently low-level spirits, but a "high spirit" named Vettellini emerged in the ninth séance and continued on as Reine's primary guide, the 107th and final séance in this book taking place on March 11, 1914.
Further information, and an extract, can be found on the White Crow Books website:
Publish date: 
September, 2017
Book Review: 
The Survival of the Soul and its Evolution after Death, by Pierre-Émile Cornillier