Angelos Tanagras – My Memoirs: A Collection of Short Stories, by Fotini Pallikari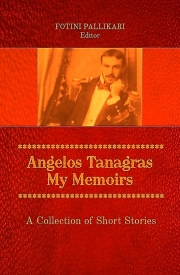 Publication Details: 
Athens, Greece. ISBN: 978-960-93-9605-9
From Dr. Pallikari's website: The present volume contains 23 articles based on the memoirs of Dr. Angelos Tanagras, edited, annotated and translated from the original Greek into English by Fotini Pallikari. They describe the life, work and personality of Tanagras: his childhood, when he was serving as adoctor in the Greek Royal Navy, and later when he established and ran the Greek Society of Psychical Research.
These selected stories aim to offer a valuable source of information on the cultural heritage not only of Greece, but also of those countries Tanagras visited or just interacted with during the time from the late 19th and up to the middle 20th century. The material presented here should be of interest to historians, psychologists, parapsychologists and humanities scholars.
Further information can be found on Dr. Pallikari's website: 
http://users.uoa.gr/~fpallik/tanagras.htm
and on her Linkedin page:
https://www.linkedin.com/pulse/angelos-tanagras-my-memoirs-collection-short-stories-pallikari-viras/?published=t
Publish date: 
November, 2017
Book Review: 
Angelos Tanagras – My Memoirs: A Collection of Short Stories, by Fotini Pallikari